Is Pomona Right for You?
Pomona College has everything you might expect from one of the nation's top liberal arts colleges: exceptional faculty, an intimate learning environment and an extensive curriculum. But before you assume we're just like everyone else, here are a few questions you might be asking yourself.
I'm a social butterfly, and a student population of 1,655 seems pretty small. Won't a larger school offer me more opportunities?
Pomona offers the best of both worlds—average class sizes of 15, but with the facilities and options of a larger university. As the founding member of The Claremont Colleges, we share resources (classes, a research library, clubs, affinity groups, health service, dining halls and more) with four other top undergraduate colleges (the "5Cs") and two graduate institutions located within a square mile. With a combined 5C student body of about 5,800, Pomona students have a social and academic experience that expands their options.
I've got my list of potential majors narrowed down to 20-30. Is that a problem?
Problem? More like awesome. We love students with broad interests and, in fact, encourage exploration through our general education requirements and flexible curriculum. Once you're ready to decide (by your junior year), take your pick from 48 majors. Or double major if you can't pick just one.
As much as I like cleaning beakers and making coffee, access to REAL research is important to me. Can I do that at Pomona?
Yes! Since we do not have graduate students, our faculty love engaging students in their research, giving you the chance to work closely with faculty on projects that truly advance the boundaries of knowledge. In fact, it's not uncommon for first-year students to get involved. The Summer Undergraduate Research Program (SURP) enables about 200 students annually to conduct extended, focused research in close cooperation with a Pomona faculty member. SURP projects, which receive funding from Pomona and outside foundations, take place on campus and in the field, spanning all disciplines. Half of Pomona's students do research with faculty during their time here, and 25% will publish or present at professional conferences.
Assuming my YouTube career doesn't take off, private schools seem very expensive. Can I afford Pomona?
To maintain the strength and variety of Pomona's student body, the College's financial resources are critical. For U.S. citizens, permanent residents, and students graduating from U.S. high schools, admission decisions are made without consideration of a student's financial circumstances (need-blind admissions). Some 55% of Pomona's students receive need-based financial aid from the College; the average financial aid package is $57,311; and the College meets 100% of the demonstrated financial need of every enrolled student. Since 2008, all financial aid awards have been a combination of scholarships, grants and work study—with no packaged loans.
Every college brochure shows a diverse student body (and people lying on a lawn, weirdly). What will I REALLY find at Pomona?
Students come to Pomona from every state in the nation and from many other countries (59 and counting), from private and public schools, from large cities, suburbs and towns so small they don't appear on most maps. Our student body is roughly half men, half women. More than 50% are domestic students of color, and 18%—across all ethnic backgrounds—are first-generation to college. While lying on the lawns is definitely popular (or playing Ultimate or reading that long Russian novel under a tree), college is also challenging. We have informal and formal support resources for all students, including the Asian American Resource Center, Queer Resource Center, Women's Union, Office of Black Student Affairs, Office of the Chaplains, Office of Chicano/Latino Student Affairs, First-Generation and/or Low-Income (FLI) Mentors and International Student Mentor Program.
I like the idea of attending college, but I also like the idea of having fun. What should I do?
You're in luck. Not only does Pomona provide a world-class college education, but it provides an amazing range of opportunities and resources. Consider our annual Ski-Beach Day, when a busload of adventurous students dons parkas and gloves in the morning to try their skills on the nearby slopes. That afternoon, they re-board the bus for the ride to Newport (or another local) Beach to end the day (in swimsuits) with a seaside cookout. It's just one of the hundreds of campus events, along with all the arts, culture and internship opportunities of nearby Los Angeles.
My mom seems to think I need to get a job after college. What opportunities do Pomona grads have?
A Pomona education has staying power. While at Pomona, students actively explore after-college possibilities. Eighty-four percent of Pomona grads have completed an internship by the time they graduate, and 2/3 have completed two or more. In 2018, the average acceptance rate of Pomona alumni to medical schools was 85%. In 2019, 96% of students had lined up jobs, internships, grad school, fellowships or other opportunities shortly after graduation. What's really worth bragging about is the fact that our Career Development Office works with Pomona alumni for a lifetime.
Discover Pomona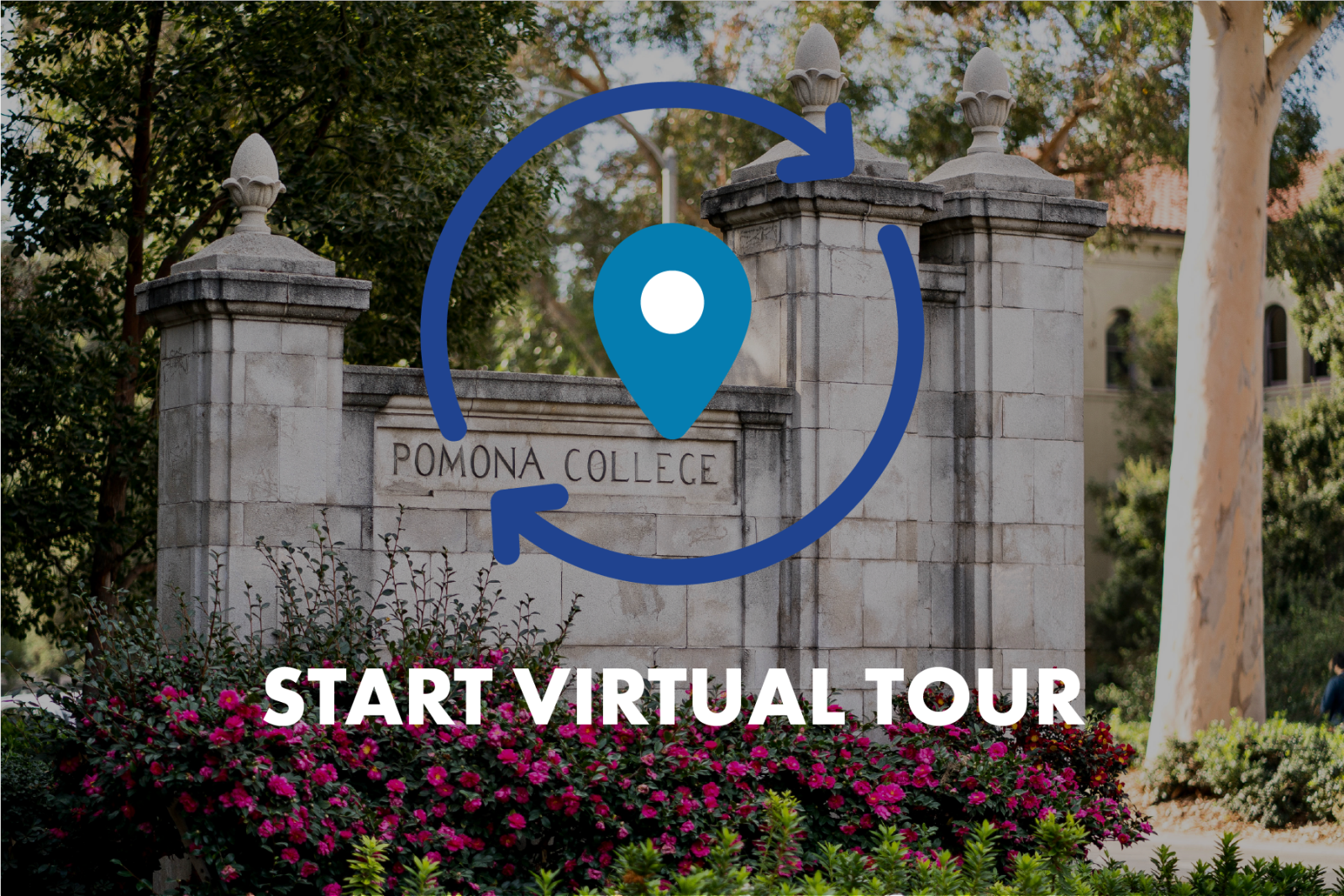 Financial Aid Facts
More than $51 million in need-based aid awarded in 2018–19
55% of Pomona students received need-based aid
Average need-based award is $57,311
25% of the Class of 2019 graduated with debt (average debt $18,829)
Comprehensive costs (2019–20): $72,596
Visit one of our online cost calculators: the Net Price Calculator or MyinTuition
Additional Information
Undocumented/DACAmented Students
Pomona College fully reviews undocumented and DACAmented students who graduate from a U.S. high school for both admission and for every type of private financial aid. DACAmented and undocumented students who graduate from a U.S. high school are not considered international applicants. We implement a 100% needs-met policy for all admitted students who are undocumented and DACAmented.
International Students
Students studying outside the United States may apply to Pomona College using the same forms as first-year students. If English is not the primary language of instruction in your school, the results of the TOEFL or IELTS exam are also required. The Admissions Committee takes financial need into consideration for applicants who are not U.S. citizens or Permanent Residents. International students applying for admission must indicate on their applications whether they will apply for financial aid. Admissions for international applicants is need-aware, but financial aid is available. We meet the full need of admitted international students. If you are not applying for financial aid, you are not required to submit the International Student Certification of Finances (ISCF) when applying to the College.
Transfer Students
We value the diversity and experience that transfer students bring to our academic and social communities. Transfer applicants must have completed at least one year's full-time college work at the time of enrollment. Students may not transfer more than 16 credits (this is usually 16 semester-long courses), and students must spend at least four full-time semesters at Pomona to receive the B.A. degree. Pomona does not accept applications from students who have already earned a bachelor's degree.
Connect with Pomona
We have no plans to offer campus tours or in-person information sessions in the fall of 2020 but invite you to explore all the virtual options we've created just for you. Learn all about Pomona's academic personality, preparation for careers and campus life at a virtual information session, live Q&A event or individual appointment.

Dive into our academics, residential life, activities and opportunities through online platforms like the Pomona College YouTube channel, Sagecast podcasts, webinars, special presentations, the Voices student blog, social media, or our good, old-fashioned website. Contact a Pomona student with questions through our student intern page, or find your admissions officer to contact on our staff page.
Application Deadlines
Early Decision I: November 15
Admission Decision by: December 15
Early Decision II: January 8
Admission Decision by: February 15
Regular Decision: January 8
Admission Decision by: April 1
Transfer: February 15
Admission Decision by: April 1
Contact Us
www.pomona.edu
(909) 621-8134
Meet the Admissions Team