About Furman
Furman University is one of the nation's premier liberal arts and sciences universities, offering rigorous academics, broad research opportunities, a robust visual and performing arts program, and NCAA Division I athletics. Furman is located in one of America's fastest growing, most vibrant cities, Greenville, South Carolina. Our longstanding tradition of educating motivated, inquisitive students has consistently landed us on U.S. News & World Report's list of America's Best Colleges. Supportive and inspiring, the Furman community is where students of varying backgrounds and perspectives find success through a combination of outstanding academics, dedicated mentorships and powerful career preparation opportunities.
Academics
With more than 60 academic programs all integrated and grounded in the liberal arts and sciences, you'll be able to explore different areas of study, and use our elective courses to round out your education. Your team of faculty and staff advisors will work alongside you, providing guidance at each stage of your Furman experience.
The Furman Advantage
The Furman Advantage promises a personalized educational experience that provides lifelong value for every student. The Furman Advantage guarantees every student an unparalleled education that combines classroom learning with internships, study away and research opportunities. This integrated four-year pathway, guided by a diverse community of mentors, prepares students for lives of purpose and accelerated career and community impact.
Residential Life
We believe the 100% residential experience at Furman is a critical part of your education that cultivates a strong and inclusive community and encourages collaboration and self-discovery. That's why we provide housing for all students for all four years. No matter where you're from, you'll feel at home at Furman. Every housing option provides a myriad of opportunities to develop lifelong bonds with your classmates and participate in student activities.
Student Life
With more than 155 student clubs and organizations, there are unlimited ways to develop personally and professionally — while also making an impact on campus.
From Heller Service Corps, the Shucker Center for Leadership Development, and Student Media Organizations, to Fraternity and Sorority life, whatever draws your interest, you'll find a group of students you can connect with.
With 18 NCAA Division I teams and dozens of club and intramural squads, it's easy to find a game on campus! Our varsity and club teams have won national championships, and students earn serious campus bragging rights through our competitive intramural leagues. In fact, about two-thirds of our students participate in intramural or club sports, making our recreational sports program one of the most active in the nation.
Greenville, SC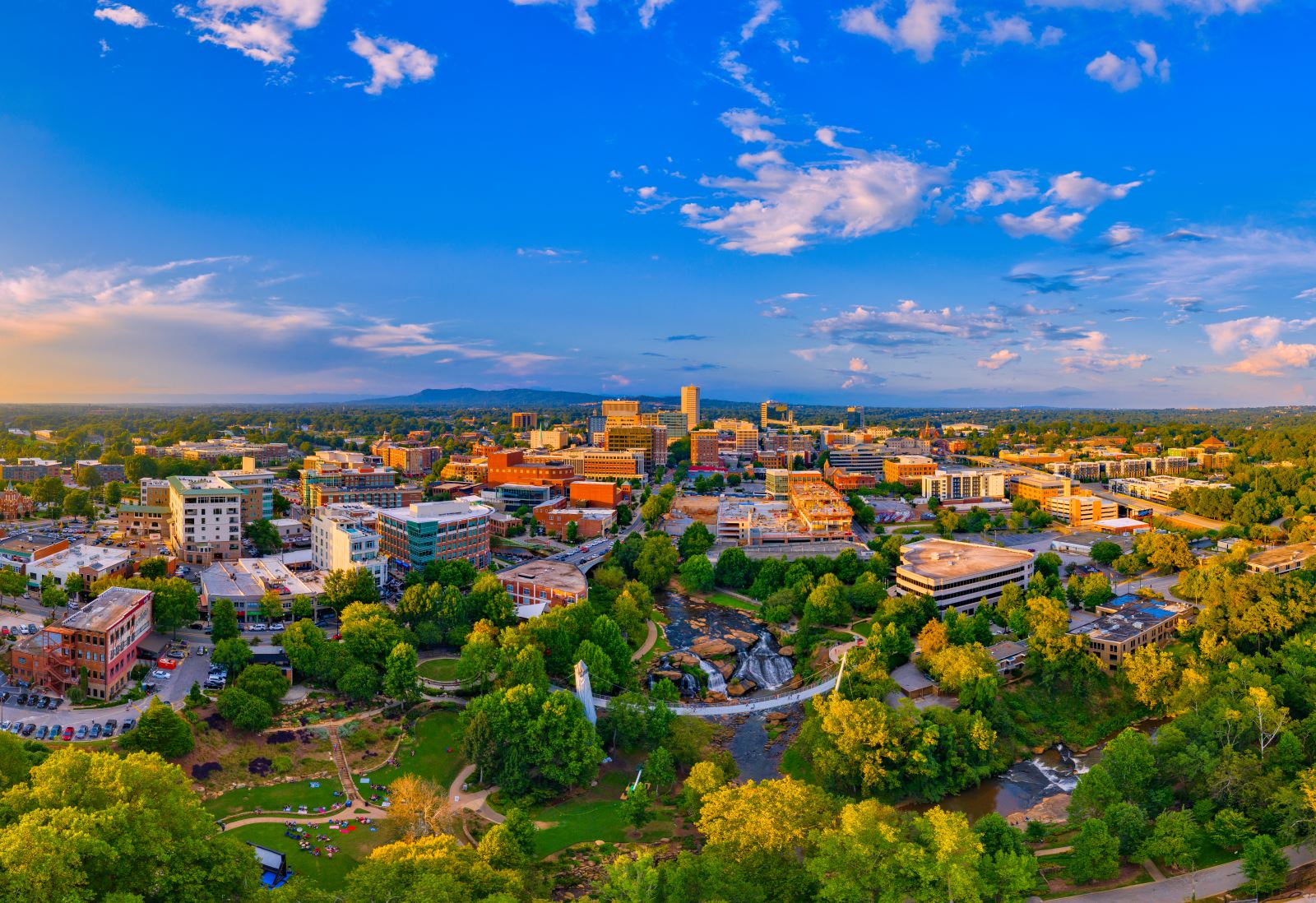 An award-winning city, and nationally recognized as a model for urban development, Greenville has been called "one of the 15 best cities for young adults" and "the next big food city in the South." Greenville is fast-paced, yet still charming. Fortune 500 companies and rapidly growing start-ups continue to populate the area. Furman's relationships with local businesses allow students unique access to internship, research, and career opportunities in a variety of sectors. Large corporations like BMW, Fluor, General Electric and Michelin lead the way in hiring new Furman graduates. Greenville is also home to Prisma Health, one of the largest systems of its kind in the Southeast. Our campus has formed a unique partnership with Prisma Health to develop educational programs and internships for students pursuing careers in medicine-related fields. Greenville's close proximity to Atlanta and Charlotte adds both to its economic development and engagement with the world.
When you visit Furman, you'll have the opportunity to tour campus, chat with students, meet with admissions, experience life as a Paladin, and explore all that Greenville, SC has to offer! We have so much to show you and can't wait to meet you.
On-Campus Tours
Furman has resumed campus visits for all prospective students!
Come see us!
Safety is our top priority as we ensure all recommended guidelines for are followed to protect both our campus community and you as our guests.
An Admission Counselor will begin your visit with a Welcome Session, followed by a guided tour of campus by a student ambassador.

Masking both indoors and outdoors will no longer be required on campus for those who have been fully vaccinated against COVID-19.

We respectfully ask that any individuals who have not been vaccinated against COVID-19 continue to wear a mask and maintain physical distancing during the campus visit.
Virtual Visit Opportunities
If you prefer to connect with Furman virtually, we have also expanded virtual options below:
Virtual Information Sessions: Mon-Fri at 3:30 PM EST
Individual Counselor Calls: Weekdays from 9 am- 8 pm EST
We are here to help you connect with current students, faculty, and staff during this time as well. Please connect with your admission counselor with any questions or if you'd like to get in touch with faculty or students, as available.
2021-2022 Admissions Dates

and Deadlines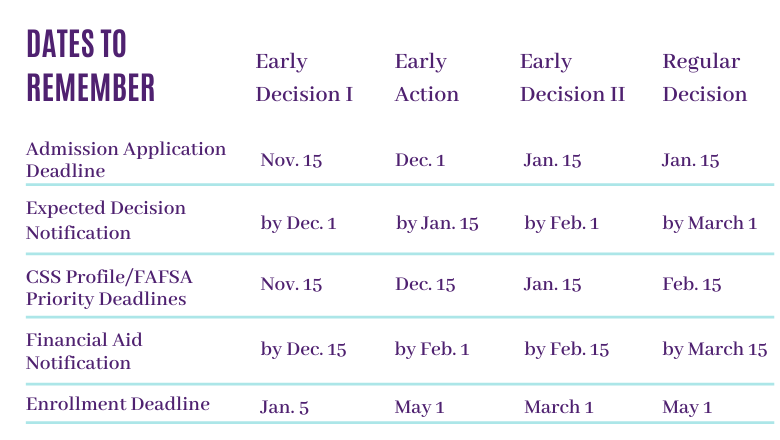 2021-2022 Transfer Admissions Dates and Deadlines

Application Requirements
Furman practices a holistic, selective admission process in which we assess traditional measures of academic success—rigor of curriculum, grades and test scores (optional), extracurricular involvement, special talents and life experience. We strive to shape Furman's community with students of all different talents, backgrounds, personalities, interests and passions. Beyond the application, we value personally connecting with each applicant in order to get to know students better and learn more about their interest in Furman. We invite you to let us get to know all about you. Our goal each year is to enroll a well-rounded first-year class, academically accomplished and diverse in every dimension.
Students must submit:
All required parts of the Coalition Application or the Common Application
We understand that many families may still be facing financial challenges resulting from the COVID-19 pandemic. Therefore, we have decided to remove the application fee for all applicants for the 2021-2022 academic year.
Official high school transcript
School Report
Official SAT or ACT scores (optional) (SAT code: 5222/ ACT code: 3858 )
For more information about admission requirements, please visit furman.edu/admissions-aid.
Standardized Testing
The Admission Committee believes that your potential for success cannot be determined solely by standardized test scores. Therefore, submitting your SAT or ACT scores is optional at Furman.
If you decide to submit your test scores and submit multiple test results, the Admission Committee will select the scores that offer you the greatest advantage in the admission review process.
To demonstrate English proficiency, please submit one of the following tests below:
TOEFL: 85 (Average 21 in each category)
IELTS: 6.5 (Overall band score)
Cambridge English Exam Advanced (CAE): 180 (Overall score)
Duolingo English Test: 105-110
Financial Aid
We recognize the significant investment you and your family will make to attain a Furman education.
Furman offers a number of scholarships to students who demonstrate a strong ability to succeed based on their academic achievements, commitment to the community, passion for leading, or exemplary talents. Furman's scholarships recognize those students who show the potential and promise to make an impact in Furman's community.
Students who wish to be considered for need-based aid must complete the Free Application for Federal Student Aid (FAFSA) and CSS Profile. Financial Aid packages for students who qualify for need based aid may include grants and scholarships as well as Federal loans, grants, and Work-Study.
For more information about financial aid, please visit https://www.furman.edu/financial-aid/
After Submitting your Application
Please visit Furman's Admissions page for your next steps!
Additional information